If you already have an individual PACER account that was created prior to August 11, 2014, it must be upgraded for Central Sign-On in a NextGen CM/ECF Court.
Step 2   
Select

Manage My Account

 

 

Step 3    
Login using your current PACER Username and Password.
Step 4    
If the account type is Legacy PACER account as shown below
select Upgrade link.

Step 5   
Under the Person tab, update and/or complete the required information . Select

Individual

as user type. If you have a government account    select from the government account list.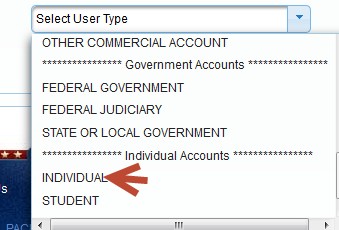 Click Next when finished.
Step 6   
Under the Address tab verify your address information and phone number. Correct or update required information as needed.
Click Next when finished.
Step 7    Create a User Name and Password (using the guidelines in the pop up box). 

Please note, best practice is not to use the same username and password as your current CM/ECF account

.  Select and answer the security questions and click Submit
.
Step 8   
You will receive a message that the Upgrade is complete. Click Close. You will see the account type now says

Upgraded

, not Legacy.

 

Step 9   
Logout of PACER.